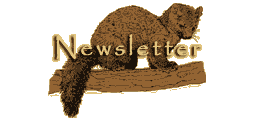 Article Submission | Current Issue | Archives | Newsletter Editor
Submitting Articles To The Marten
All members are invited to submit articles to the chapter newsletter, The Marten. Articles should be e-mailed to the newsletter editor in an unformatted Word document. Please limit articles to 300 words or less, single-spaced. Articles become the property of the CA North Coast Chapter – The Wildlife Society and may be edited for space. Article submission does not guarantee inclusion in any issue of The Marten. All work must be original or properly credited.
The Latest Issue
Volume 9 No.1
Archive Of The Marten Newsletter
Newsletter Editor
For questions and comments contact the newsletter editor, Wendy Mellberg.
---
Last updated: April 14, 2005